Kitchen Trends 9 Ideas for your Redesign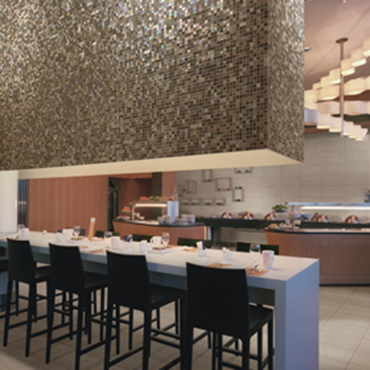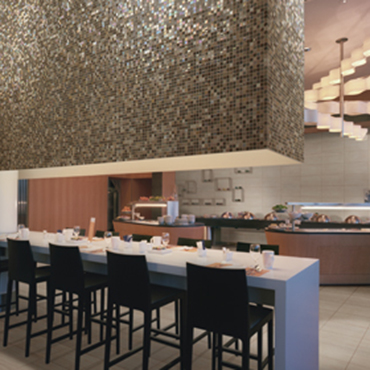 This is the year you've been waiting for-it's finally time to redesign your kitchen. Whether you know exactly what you want or you're just beginning, timeless trends will help you get and stay on track. Add to that the expertise of Daltile's tastemakers in tile and you'll get a gorgeous kitchen this year.
MIXING
No more matchy-matchy. The coming year will see lots of mixing of textures, sizes, shapes, and materials. Colors will remain mostly neutral but interesting design comes in many other packages.
Concepts of the Look
There are lots of ways to mix it up. You might try one material on the wall and a different one on the floor. Or you might opt for a busy floor pattern and a sleek look on the backsplash. A kitchen island that's one part granite and one part wood separates prep and dining spaces yet still looks classy.
Jewel Tide™ 5/8 random glass mosaic in Beach Pebble
Tile for Mixing
Our tile designers have really taken the mixed media trend to heart. You'll find mosaics that mix stone with glass and glass with metallic. Or try a brick tile on the wall and a wood tile on the floor. Put a shaped mosaic on the floor with large format on the wall. The possibilities are endless.
WOOD
Wood is still hot! And the choices only grow with each passing year. 2016 will be a big year for taking reclaimed wood-looks and incorporating them with contemporary elements.
Concepts of the Look
Even though wood is a very rustic look, you don't have to have a log cabin design to use it. You can take it to the next level by choosing something to go with it that changes the aesthetic.
Tile for the Wood Look
Season Wood is a big seller at Daltile and that is expected to continue. Look for additions to the collection of wood-look in 2016. Combine this classic and durable look with subway tile or a linear tile on the wall. Sleek tile may be opposite to rustic wood, but the two work together for a transitional style.
City Lights™ Barcelona 1/2 x 1/2 mosaic with Veranda Tones™ Zen Garden 6-1/2 x 20 field tile on the floor and wall
QUARTZ
Everyone is talking about quartz. And they should, it's an incredible countertop surface that has it all. It is an engineered stone with 93% quartz, but that other 7% allows for colors and patterns that are difficult to get or are expensive.
Concepts of the Look
There's nothing quite like stone in the kitchen, but if you have some reservations, you wouldn't be the first. Quartz is ultra-durable and virtually maintenance-free. With quartz, it's more about durability than anything else, but slab manufacturers are responding with more design options than have been available in previous years.
Tile for the Quartz
Right now quartz is only available in slab for kitchen countertop and islands. Look for it this year in new shades and colors that mimic your favorite stones.
COLORS
The color that will get the most traction is grey. It goes with everything and comes in hundreds of shades and tones. Warm, cool, dark, light—you name it and it's yours. Black and white schemes will also continue to be hot. Pops of accent color will be the way the kitchen gets its color.
Concepts of the Look
Neutrals as the basis of the kitchen allow you to accent with color. Since color trends cycle so quickly, you can easily update pops of color to stay relevant. But you might see some more permanent color coming in to play. You'll start to see kitchen sinks, tile, and other accents in fun colors. Otherwise, stick to grey and you can't go wrong.
Tile in Color
Daltile will continue to offer fun colors so you can get your colored accents in. Try Rittenhouse Square or some of the bright mosaics like City Lights to brighten things up. With the huge demand for grey, you can find most any tile you want in grey from stone to glass.
FUNCTIONALITY
toss conventionality to the wind in favor of functionality. Designers have held on to traditional kitchen elements for many years, but the new year will see some innovation in kitchen functionality.
Concepts of the Look
Cabinet doors that open up and slide out of the way instead of traditional swinging doors, hydraulic "hinges" on cabinets, buttons to open doors, maximized storage with multi-tiered drawers, higher counters, multi-level counters—and it goes on. Anything that will make it easier to use the kitchen is fair game.
Tile for Functionality
With the focus on functionality, you will be able to apply tile where you traditionally couldn't before. Think large format on the backsplash instead of glass mosaic, or entire walls covered with tile.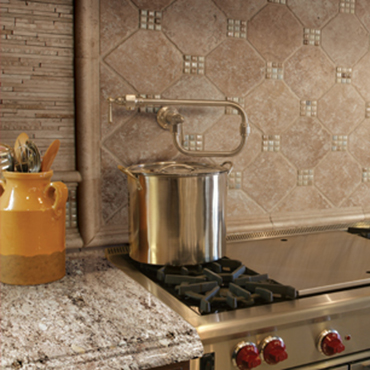 LIGHTING
It's an art to light the kitchen these days. This year, you'll see more attention given to feature lighting, like what you'd see over the island.
Concepts of the Look
There are many options when it comes to feature lighting. Chandeliers or pendant lights over the island are the most popular, but any area of the kitchen you want to draw attention to should have either featured light fixtures or accent lighting.
Tile for Lighting
Pay attention to where you place lighting in relation to your tile. If the lighting is too close, it will bring out imperfections and make tile look segmented by the grout lines far more than it would if you keep your lighting about 24 inches away.
SMART KITCHEN
Automation is becoming more and more a part of the home. And the kitchen is the perfect place for cutting-edge technology.
Concepts of the Look
Motion-activated lighting is a hit. Or start small and try the motion-activated faucet. Pick up digital read thermometers that alert your phone when the roast is done. Start the dishwasher from your phone. That's only the beginning.
Tile for a Smart Kitchen
Tile is getting smarter too. Ink-jet printing brings you realistic wood-look and stone-look tiles. StepWise brings you increased slip resistance. ColorBody tile ensures any chips or scratches aren't blaringly obvious. Plus, Daltile makes a huge effort to use recycled material and uses sustainable practices.
LOOK-ALIKES
Save money and trouble by selecting a look-alike material instead of the real thing. The look-alikes are so realistic, most people have to take a second look to tell the difference.
Concepts of the Look
It was once taboo, but now you can get faux anything without shame. Even though they aren't the "real thing", they are the real deal when it comes to durability and style.
Tile for Look-Alikes
Daltile offers look-alikes in wood, stone, cement, fabrics, and metallic. There are more and better options all the time so check out the current offerings and keep your eyes open for more to come.
TRANSITIONAL
Transitional design takes bits of the classic and carefully mixes them with bits of contemporary. It's the perfect middle-ground for people who want to do something different but not too different.
Concepts of the Look
Transitional design is super popular because it makes everyone feel trendy, but still comfortable. It's the perfect fit for giving your kitchen a small update without gutting and starting over. Transitional lets you mix your favorites up all together for a design that makes you truly happy.
Tile for the Transitional
Use subway tile to add a little flair to your kitchen. Wood-look or stone both make great backdrops for accent design and they fit seamlessly into both classic style and contemporary. Select other tiles that have versatile options like different finishes or sizes. A thing as simple as a trendy finish can transform your design.
Daltile® Tile
Daltile is the country's leading manufacturer and distributor of ceramic, porcelain tile & natural stone. Built on a tradition of outstanding design, quality, and service, we set the standard for the entire industry. For over 70 years and counting, we answer the question WHY TILE? with trustworthy tile for floor, wall, and countertop that is proudly made in the USA.
---
Profile | Website | Design Tools